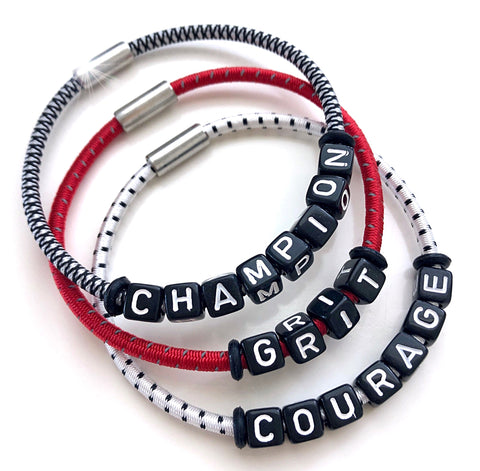 CHAMPION on Show Steeler
GRIT on Sound the Alarm
COURAGE on Audacity
Special Beads/Sizing Guide
SPECIAL CHARACTER BEADS:
custom GEE*Bands only
Available on WHITE beads: 🖤❤️💛💚💙💜💗, and gold heart
Available on BLACK beads: 🤍⭐️🌙  (note: heart, moon and star are white, outlined shapes on black bead, not solid/full color)
To add a Special Character bead to your GEE*Band:
Type an asterisk ( * ) in the text box where you'd like the Special Character to be. 
-- For example, if you want your GEE*Band to say L❤️VE, you'd type L*VE in the text box.
Please be specific in the Special Instructions box (in your Cart) what Special Character Bead you would like.
-- For example, "Please replace the * with a red heart" 
                                            ________________________
SIZING GUIDE:
GEE*Band measurement is determined by the circumference of your wrist. You can easily measure your wrist with a piece of string. Place the string around your wrist, and mark its length. Next, measure the length of the string with a ruler or tape measure, in inches. 
Below are typical wrist sizes:
| | |
| --- | --- |
|  XXS - 5.5" |   toddler / small child |
|  XS - 6.0" |   small child / under 10 yrs old |
|  S - 6.5" |   petite adult / pre-teen / teen |
|  M - 7.0" |   average adult female / petite male |
|  L - 7.5" |   average adult male |
|  XL - 8.0" |   athletic build / more to love |
NOTE: The GEE*Band is designed to stretch over your hand, and fit snug on your wrist. Over time, you may notice a slight loosening of the bungee, making the GEE*Band fit a bit looser on your wrist than when originally purchased.