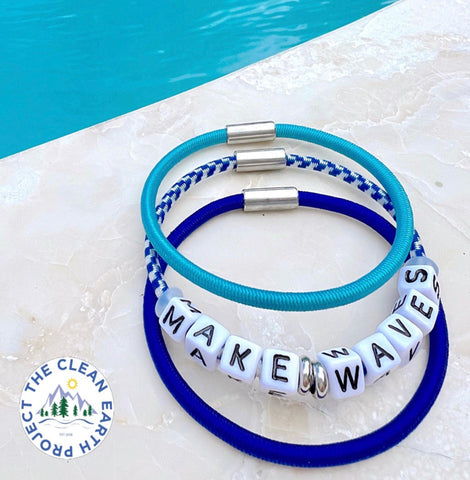 Shown:

MAKE WAVES: swell on

Style #0900
MAKE WAVES: swell on
$55.53
MYG has partnered with The Clean Earth Project to bring your little ones their greatest reminder!
life isn't always about ridin' the waves. if you're going to have an impact on this beautiful world, you gotta get out there and MAKE WAVES, baby!
time to be the change, time to cause the biggest splash + loudest surf. show the world the greatness you're made of! 
20% of your purchase will go directly to The Clean Earth Project to help fund environmental awareness and educational programs, as well as their public clean-up events at local beaches and green spaces. Learn more at www.thecleanearthproject.com
Be Bluetiful O*GEE
MAKE WAVES on Believe
Hype Starter O*GEE
Special Beads/Sizing Guide
SPECIAL CHARACTER BEADS:
custom GEE*Bands only
Available on WHITE beads: 🖤❤️💛💚💙💜💗, and gold heart
Available on BLACK beads: 🤍⭐️🌙  (note: heart, moon and star are white, outlined shapes on black bead, not solid/full color)
To add a Special Character bead to your GEE*Band:
Type an asterisk ( * ) in the text box where you'd like the Special Character to be. 
-- For example, if you want your GEE*Band to say L❤️VE, you'd type L*VE in the text box.
Please be specific in the Special Instructions box (in your Cart) what Special Character Bead you would like.
-- For example, "Please replace the * with a red heart" 
                                            ________________________
SIZING GUIDE:
GEE*Band measurement is determined by the circumference of your wrist. You can easily measure your wrist with a piece of string. Place the string around your wrist, and mark its length. Next, measure the length of the string with a ruler or tape measure, in inches. 
Below are typical wrist sizes:
| | |
| --- | --- |
|  XXS - 5.5" |   toddler / small child |
|  XS - 6.0" |   small child / under 10 yrs old |
|  S - 6.5" |   petite adult / pre-teen / teen |
|  M - 7.0" |   average adult female / petite male |
|  L - 7.5" |   average adult male |
|  XL - 8.0" |   athletic build / more to love |
NOTE: The GEE*Band is designed to stretch over your hand, and fit snug on your wrist. Over time, you may notice a slight loosening of the bungee, making the GEE*Band fit a bit looser on your wrist than when originally purchased.